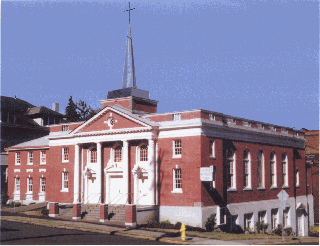 At First United Methodist Church of Astoria, we all share a faith in Jesus Christ, but The United Methodist Church encourages us to think for ourselves, so we don't necessarily share the same opinions about every faith issue or social concern. And there are lots of us: 8.5 million United Methodists live in the U.S., and 1.5 million more worldwide.
As United Methodists, we have an obligation to bear a faithful Christian witness to Jesus Christ, the living reality at the center of the Church's life and witness. To fulfill this obligation, we reflect critically on our biblical and theological inheritance, striving to express faithfully the witness we make in our own time.
Putting faith and love into action has continued to be a hallmark of The United Methodist Church. The United Methodist Church believes God's love for the world is an active and engaged love, a love seeking justice and liberty. We cannot just be observers. So we care enough about people's lives to risk interpreting God's love, to take a stand, to call each of us into a response, no matter how controversial or complex. The church helps us think and act out a faith perspective, not just responding to all the other "mind-makers-up" that exist in our society.
Three simple rules guide our lives: Do no harm. Do good. Stay in love with God.
Please join us as we practice these rules. With God's abundant grace and forgiveness available to all, the church is the place where we practice – sometimes doing well, sometimes not so well.
The People of Astoria First United Methodist Church:
Help people in their community,
Accept you for who you are,
Offer a place to belong,
Care for and support each other,
Show respect for other religions,
Support people facing difficulty,
Welcome diverse opinions and beliefs,
Guide others to find deeper meaning.
Our Location: 1076 Franklin Avenue, Astoria, OR 97103 (Corner of 11th and Franklin)
Questions? Call us at (503) 325-5454 or send an email to office@astoriafumc.org